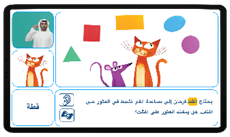 Kalimati is an educational digital solution focusing on families with children diagnosed with deafness and hearing impairment. Our goal is to provide sign language-based intervention and improve language acquisition in the formative years of babies and toddlers (age 0-7) through storytelling in a phased approach to gesture-based langue acquisition. By creating an intervention for this age group we create a language acquisition system that delivers language in a visual format.
The Kalimati program makes use of the innovative solutions that tablet technology lends towards using interactive storytelling to support gesture-based language acquisition.
Tablet technology allows for the inclusion of video and animation to support object/action recognition in the form of image or animation, non-verbal storytelling through animated actions of narratives accompanied by sign language vocabulary, narrative storytelling in sign language, and audio for children who are hard of hearing. Using a tablet-based solution makes use of a direct touch interface and eliminates the language and skill barrier that is presented by a traditional keyboard and screen solution (that provides an interactivity element) that requires higher skills and the limitations presented by print books in the language acquisition process of a visual and gesture-based language.
Communication is fundamental to a person's or a group's development. The Deaf child faces significant barriers to langue acquisition as a deaf child has multiple modalities (sign language gesture, object/action, and context) they need to synthesize to acquire singular concepts that form the basis of acquiring a cohesive communication system. Deaf children learn through visual observation of the world around them by associating objects/actions in context with words as a sign gesture in order to acquire a basic vocabulary and thereby stringing vocabulary together to form sentences in the syntax system of gesture-based languages.
The Kalimati interactive digital storybook combines the visual elements required by a deaf child to learn a sign (word or concept) in the context of a single interactive interface space. The deaf child is provided with all aspects to enable communicating and reading by presenting nonverbal storytelling through animation, sign clues, and written language support.
Winner of Mada innovation awards 2022