Clicker 7 is the award-winning, innovative reading and writing tool designed to help students of all abilities to achieve rapid and permanent gains in their literacy skills. It is aimed at children from 5 – 11 years old, and those with special needs. Clicker is developed by Crick Software a UK based company specializing in developing ICT based literacy solutions for students with disabilities.
Clicker 7 Arabic includes an assistive word processor. Most word processors are designed for literate adults. Clicker 7 Arabic is designed for children who are learning to read and write.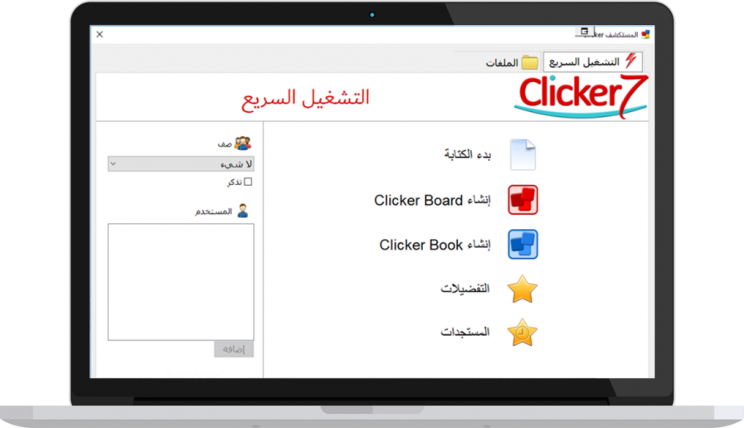 Children benefit from acclaimed Clicker support features including:
Speech feedback – Each time a sentence is completed, it is automatically read aloud.
Word prediction – Clicker's predictor enables children to give their full attention to what they want to write and encourages them to use more adventurous vocabulary.
Voice Notes – this tool enables pupils to record their own audio notes before they write. It gives them an opportunity to rehearse their sentences, and offers a powerful way to capture their initial thoughts and ideas.
Clicker Sets – give students point-and-click access to whole words, phrases and pictures, helping them work more independently. Clicker Sets includes Talk Sets, Clicker Books and grids for writing support which are as follows:

Talk Sets – helps develop speaking and listening skills.
Clicker Books – promotes reading and allows the user to write their own versions of the books.
Sentence sets, Connect Sets and Word Banks – takes the user on a journey from creating their first sentence to writing advanced compositions.
Grid creation tools in Clicker 7 Arabic allow practitioners to swiftly create resources to support the user. The brand-new Clicker Board allows the user to organize ideas – the vital first step in the writing process. Clicker Board provides a built-in planning tool to help children prepare for writing.
Localization Grant
Crick Software have developed an Arabic localized version of Clicker 7 through the support of the Localization Grant within the Mada Innovation Program. Throughout the course of localization, Mada has provided subject-matter expertise to ensure that the solution meets international quality standards and is appropriate for use within the local social and cultural context. This is the second generation of Clicker solution being localized with Mada prior to this, Clicker 5 Arabic was developed and well received by the Education sector in Qatar.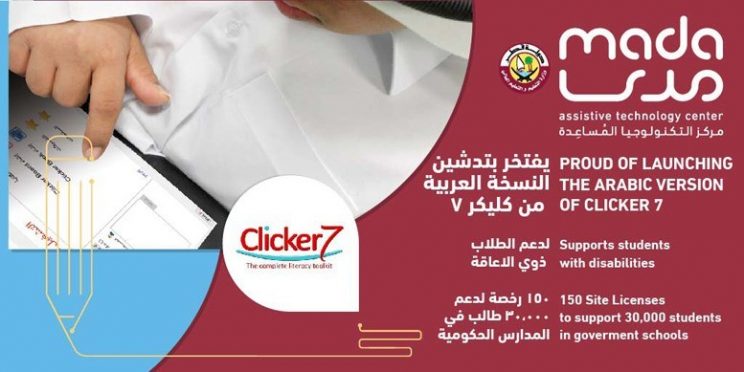 Through such innovation initiatives Mada helps to offer the latest accessibility solutions to the disabled community in Qatar and the Arab region. With the release of Clicker 7 Arabic, students with disabilities in Qatar can benefit from this innovative tool to support their learning needs in both English and Arabic.
GREAT 2018 – Innovation Zone
Mada showcased Clicker 7 Arabic in the Innovation Zone and dedicated a demonstration session was offered at the Innovation Theater during the GREAT Conference 2018 to provide exposure to the solution through an international platform.
The solution was seen to have significant impact on students with disabilities and their families because it allows them to be equal contributors within the classroom and facilitate the experience of an inclusive learning environment.
The app was praised for its features to be highly adjustable so that teachers and families of students with disabilities can customize it to meet the learning needs of their children at school and at home. The availability of a comprehensive Arabic educational tool for students with disabilities to help them engage in classroom by actively participating and acquiring relevant skills were recognized as a key element to offer a more inclusive education environment.