Summary
Identifying the value of banknotes is one of the main challenges faced by people with visual impairments. Such challenges make it hard to exercise basic daily activities, like needing to seek assistance to determine the value and authenticity of such bills. There is a necessity for developing solutions that can evaluate the authenticity and value of local and major international currency bills through the use of mainstream device such as a smartphone. The increased hardware capability and portability of such devices make them ideal to serve as suitable platforms to integrate app-based solutions to resolving such challenges.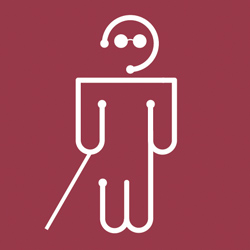 Khaled is 40 years old and is a person with blindness. He lives an active lifestyle where he prefers to independently carry out his daily chores and retail activities. While going shopping, Khaled is often faced with the challenge at the payment counter to ensure that the cash he is paying and/or receiving is genuine and correct in value. He would like to have a safe and secured retail experience by using relevant mobile technology that will allow him to accurately evaluates the authenticity and value of the currency bills during making his payment.
1
Khaled goes to a retail store.
2
He completes shopping for the items required and approaches the payment counter.
3
He takes out his cash and smartphone, and launches the currency valuation app installed in his smartphone.
4
Khaled uses the camera of his smartphone to evaluate the value and authenticity of the currency note using image processing technology.
5
Once the value authenticity of the currency note is identified, the smartphone vibrates in a distinctive manner to convey the information.
6
Khaled successfully completes the payment and shopping experience.
Khaled is a person with blindness who lives an independent and active lifestyle. He performs his own daily shopping and retail chores. One of the key challenges faced by Khaled during his shopping experience is to be able to independently evaluate the value and authenticity bills while paying at the counter. Khaled would like to use a solution that would help him efficiently and independently transact securely during his shopping trips.
Independent and Secured Retail Experience for person with visual impairment/blindness
The solution ensures that persons with blindness can transact their monetary requirements independently and secure manner during their retail experience.
Irradicate the Circulation of Fake Currency Notes
Adoption of such solutions would aid in eliminating the circulation of fraud currency notes by allowing users to instantly validate the authenticity on their notes.