Summary
Smart-home devices can sometimes feel almost magical. They allow user to turn on lights without having to touch a switch, answer the front door from user bedroom (or a hotel room), and tweak user thermostat with a simple voice command. For many people, those capabilities are a convenience or a luxury. But for people who live with accessibility challenges, smart-home technology can be a powerful enabler, one that allows them to live a more independent and empowered life. When Covid19 forced people to stay home, having an external support for PWD and elderly people was a challenge. Introducing smart home technology to automate most of the home appliances with the aim to significantly improve daily living and promote independent living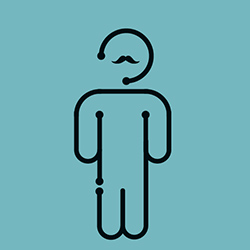 Mohammed is 68 years old and has mobility challenges. Mohammed has a helping assistant to help him with most activities at home. However, the overall situation of his health and the status of the pandemic has severely limited from acquiring external help assistants entering home and has restricted Mohammed from many daily activities. He would greatly prefer to use a solution that would allow him to connect devices in his house to work on single touch point from any part of the house.
1
Mohammed wakes up in the morning with Smart Alarm and connected window blinds opens up
2
Mohammed is greeted and prompted by his smart speaker with appropriate guidance to perform relevant fitness activity.
3
Mohammed puts on his smart wearables wrist band which will track his daily health status, fall detection and other alerts
4
Mohammed can control home temperature using the mobile phone and control the room lighting for reading
5
Mohammed can unlock the Smart home safety locks of his house using mobile phone
6
Activities and guidance are visually demonstrated on the Smart TV for Mohammed to follow.
7
Mohammed performs the required activities
8
The wearable and other sensor tracks and measures his routine and provide feedback on activities.
9
Mohammed gets access to entertainment system through the mobile phone
Potential Service Features
Single application to control all appliances and devices in the home with voice command
Link with Medical Records
Activity Tracking
Emergency Response Feature
Daily news updates
Mohammed is an elderly person with limited mobility challenges who intends to perform daily activities independently and track his progress on a regular basis. His health condition coupled with the horizon by the pandemic hinders the ability of Mohammed to live independently. It is important to ensure that technologies that relate to assisted living is safe to use, and is tailored to the needs of those who require targeted support. The aim is to identify smart home requirements and subsequent solutions that are tailored to support the requirements of an individual with disability or the elderly, and enable accessibility and improving quality of home living
More Smart Living Among all Citizens and Residents:
Catering to elderly and PWD community to have a smart and safe lifestyle.
Improved State of Digital Inclusion:
Simplifying the usage of technology can lead to higher digital inclusion and adoption, and promote the usage of technology among new age groups within Qatar