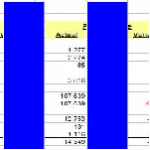 Spr-Ot, or spreadsheet slot uses the lessons learned in creating and improving Vu-Bar to prvide a tool for use primarily with spreadsheet applications.
The bar can be flipped between vertical and horizontal use, moved, hidden and restored by either the menu or Hotkeys.
The bar can also be adjusted for height and width and locked onto the mouse for quick and easy movement.
To use the mouse, simply click and hold to drag or right click for the menu.