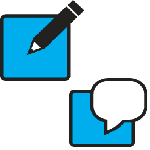 This product contains two applications Reader and Writer which provide reading and writing support in Arabic.
Reader is a handy little program for reading text aloud.  You can select text from any program, whether a news item in your web browser, a report in Word, an email or whatever you need.  The text is displayed in the Reader window, and is then spoken aloud automatically or as a result of selecting the Play button.
When writing any sort of document, Writer helps you type more efficiently.  It monitors the text you write, and uses prediction to suggest words as you type.  There are several options that allow you to personalise the software.