Summary
The tracking monitoring of fitness levels on a regular basis can often be challenging for the PWDs and the Elderly community due to the involvement of physically visiting health and wellness facility. The added implications of practicing precautionary measures and social distancing due to the COVID19 pandemic has significantly increased the necessity to develop solutions that allow the tracking and monitoring of relevant objectives and goals remotely. The adoption of such solutions will ensure a better quality of life among the PWD and elderly community along with the uptake of latest ICT.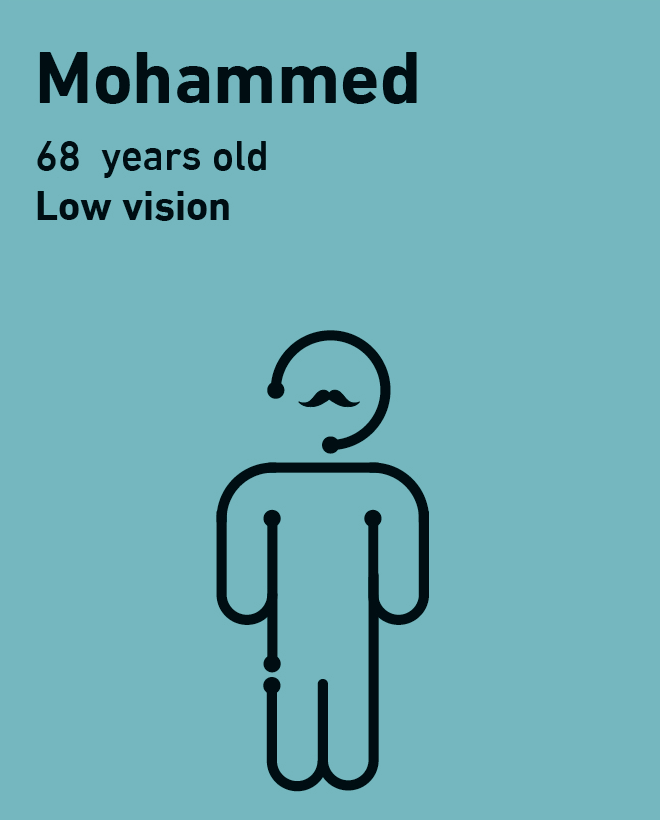 Mohammed is 68 years old and has mobility challenges. Mohammed perseveres to visit the nearby health and wellness facility on a regular basis with the best extent possible. However, the overall situation of his health and the status of the pandemic has severely limited his ability to go outdoors on a regular basis. He would greatly prefer to use a solution that would allow him to accurately track and monitor his fitness levels regularly along with providing guidance in performing daily fitness activities.
1
Mohammed wakes up in the morning
2
Mohammed is greeted and prompted by his smart speaker with appropriate guidance to perform relevant fitness activity.
3
Mohammed puts on his wearables smart kit to achieve appropriate fitness activity guidance, and track/monitor his fitness goals.
4
Mohammed has his exercises and activities tracked through a camera connected to a smart TV in conjunction with the wearable kit.
5
Fitness activities and guidance are visually demonstrated on the TV for Mohammed to follow.
6
Mohammed performs the required activities
7
The wearable and other sensor tracks and measures his fitness activities.
8
Information about the fitness level of Mohammed including data like heart rate, blood pressure and oxygen saturation levels are indicated on the TV screen.
Potential Service Features
Link with Medical Records
Gamification of Activity Tracking
Link to Emergency Response Teams
Usage of Virtual Reality
Usage of Video Game Consoles for Activities
Mohammed is an elderly person with limited mobility challenges who intends to perform fitness activities independently and track his progress on a regular basis. His health condition coupled with the horizon by the pandemic hinders the ability of Mohammed to visit the nearby health and wellness facility regularly. Mohammed would like to use an interactive solution that would guide him on relevant fitness activities to be performed and also allow to monitor and track his fitness levels and goals remotely without the need to leave his home.
More Active Living Among all Citizens and Residents:
Catering the activity tracking, monitoring solutions to elderly would lead to higher adoption and increased activity in their lifestyle.
Improved State of Digital Inclusion:
Simplifying the usage of technology can lead to higher digital inclusion and adoption, and promote the usage of technology among new age groups within Qatar