Mada Fablab is the first hands-on inclusive technology and digital fabrication space in the region set up in the MadaLab by Fablab and Ibtechar accredited by Fab Foundation.
The vision of Mada FabLab is to be referenced internationally as the first Fab Lab, managing, developing, and promoting social innovation processes through digital manufacturing and open knowledge for persons with disabilities.
Such a space will support, promote, and accelerate ideas into products, which allow the development of high-value local entrepreneurs and businesses for persons with disabilities. The aim is to provide the opportunity practically for people with disabilities in the public or private sector with creative ideas to participate together in the design, production, and distribution of innovative products and services. Mada Fablab will the yearly Fab Foundation Diploma courses for PWD starting 2022.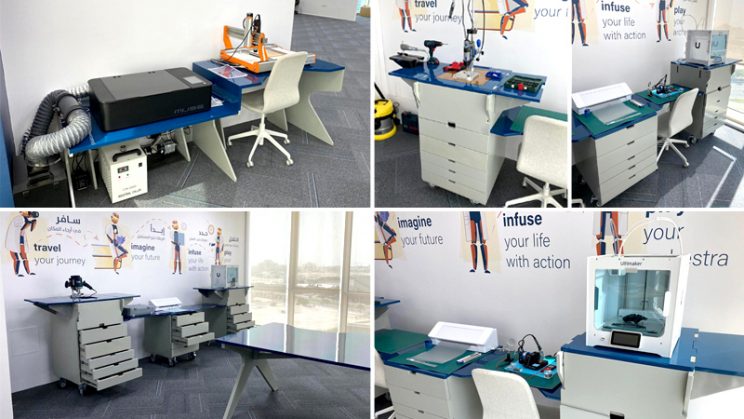 Mada Fab Lab provides opportunity to make full use of the facilities for your various projects. If you are interested visit the Lab to know more, please send us an request email to innovation@mada.org.qa.
HOW TO ACCESS MADA FABLAB
Step 1:
Send access request to innovation@mada.org.qa with basic credentials and state the purpose for the visit
Step 2:
Mada internally review the request and allocate the slot if approved
Step 3:
Mada will send approval email with details of the visit to the applicant
Step4:
Applicant confirms the visit on the allocated slot
Step 5:
Mada will request the QID copy of the visitors for building facility access documentation
MADA FAB SERVICES
Laser Cutting
3D Printing & 3D Scanning (high + low resolution)
CNC & Milling
Electronics Production
2D and 3D Modeling Consultation
Programming Consultation
Vinyl Cutting
Recognized by,