Summary
Over the past few years, technology has been making strides in revolutionizing methods of learning and teaching with the support of various tools making children more focused and motivated in the coursework. Technology-enabled curriculum and smart boards have long replaced traditional blackboards and two-dimensional textbook images. As it moves into the next generation of media transformation, AR (Augmented Reality) and VR (Virtual Reality) are becoming the key platforms to be used in education technology. One of the key challenges in the education sector is to allow independent access to information for students with disabilities. Individuals with learning disability or communication disability relies on assistance from special ed teachers or tutors. This use case focuses on developing an innovative accessible solution on VR/AR platform to be used at home for regular coursework for children with special education requirement and have tool for teachers to monitor and evaluate the work remotely.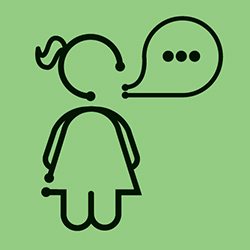 Noora is an eight-year-old student with mild learning disabilities and performs her educational tasks with the support of special ed teachers in school. She finds it difficult to concentrate on tasks for an extended period of time. Noora is both excited and a little nervous about her school's decision to adapt home schooling for kids via eLearning platform during the event of COVID 19 virus outbreak as she won't be having the presence of her special ed teacher onsite while performing her daily coursework.
1
On the first day of distance learning, Noora starts her day by logging on to the eLearning portal to know and complete her task for today as remotely assigned by her teacher.
2
Noora wears the VR/AR headset attached to her laptop.
3
The VR/AR headset displays the educational task assigned to her in an interactive format allow her to be engaged and understand the task.
4
Noora uses the VR/AR solution for learning with remote support of her special ed teacher while providing live feedback and support throughout the sessions.
5
Noora responds the solutions to her tasks verbally by communicating with special ed teacher online through eLearning platform video conference.
6
The special ed teacher is able to remotely monitor Noora's coursework and evaluate the progress.
Potential Service Features
Accessible content for the VR/AR platform
Remote live monitoring and assessment eLearning software/application
As a person with mild learning disability, Noora is unable to stay engaged with coursework for an extended period without being distracted. She needs an engaging AR/VR solution to mitigate such situations and complete her coursework as planned.
VR/AR Solution integrated to eLearning platform
Availability of a VR/AR system integrated to the eLearning platform that can deliver customized content for students based on their educational skill level and IEP.
Contextual Information Delivery
Based on the student's reading, observation, and comprehension skills relevant contextual information can be delivered to meet educational goal set by the special ed teacher.
Audience Expansion
Enrich curricular content by integrating AR/VR format of delivering educational information and potentially expanding teaching possibilities with 3D design, modeling, and presentations
Implementation Timeline

Technology Commercial Viability

Investment Requirements

Key Implementation Considerations
1
Development of curricular content in an AR/VR format
2
Suitable AR/VR hardware availability compatible with eLearning platform.
3
Management of User Privacy Information.
4
Intuitive User Interface